Registration is now open for the 2019 Leadership Summit on the island of St. Kitts. The biennial Leadership Summit gives mold building executives the opportunity to engage in stimulating leadership activities - challenging and driving leaders to explore better business practices, their own leadership style and strategies for employee empowerment.
Perfectly situated between the Caribbean Sea and the Atlantic Ocean, St. Kitts Marriot Resort & Royal Beach Casino provides an unparalleled location in Frigate Bay, steps from the ocean shore and a short walk to the island's charming eateries and beach bars. The resort boasts an 18-hole golf course, casino, luxurious spa and fitness center, outdoor pools and five onsite restaurants. From water sports, fishing and zip lining to 4-wheeling through the rainforest, St. Kitts offers a wide array of exciting excursions to tantalize, relax and rejuvenate.
Deadline for registration is February 6, 2019. Interested in extending your stay? Book now, rooms going fast!
Thank You To Our Sponsors
Agenda
Wednesday, February 27
4:00 pm Check-in
6:00 - 9:00 pm Welcome Reception and Dinner (Poolside)
Thursday, February 28
6:30 - 11:00 am Breakfast on Property
9:00am - 12:00pm Leadership Workshop
12:00pm Lunch on Property and Free Time
1:30 - 5:00 pm Sail and Snorkel Excursion (Optional)*

Friday, March 1
6:30 - 11:00 am Breakfast on Property
9:00am - 12:00pm Leadership Workshop
12:00pm Lunch on Property and Free Time
1:00 - 4:30pm St. Kitts Sampling of Heritage and Culture (Optional)*

Saturday, March 2
6:30 - 11:00am Breakfast on Property
6 - 7:30 pm Farewell Reception (Poolside)

Sunday, March 3
6:30 - 11:00am Breakfast on Property
12:00pm Check-out

Afternoons and evenings are free to enjoy the property and off-site excursions.
*AMBA-planned excursion. See excursions for more information and pricing.
Programming
Creating High-Performing Teams: A Skill-Building Workshop for Today's Leaders
Join AMBA leaders for an engaging workshop focused on identifying and understanding the traits of great leaders, building personal leadership skills and developing a plan for self-growth and team strength.
Presented by Dr. Mark Brouker, a retired Captain in the United States Navy and founder and president of Brouker Leadership Solutions, attendees will
discover the new faces of today's leadership models,
explore the most effective ways to impact and grow their teams,
understand the five key leadership traits of all great leaders
discuss leadership challenges and solutions with team members and
develop personal plans for leadership growth.
With over 25 years of leadership experience, Dr. Brouker will guide attendees to look beyond traditional models by exploring the approaches used by top-performing fortune 500 companies, elite military units and winning sports teams.
Through illustrative case studies, small group activities, interactive exercise, role play and group discussion, participants will discover practical and easily employed behaviors that significantly improve team performance. Participants also will better understand the importance of continuously learning the art of leadership, as well as the power of the leadership phenomena.


About Dr. Brouker
In addition to his military experience, Dr. Brouker spent over 15 years in C-suite level positions. He served in an array of leadership positions during and after his naval career and is the recipient of numerous leadership awards.
Accommodations
St. Kitts Marriott Resort & The Royal Beach Casino




Elevate your travels from routine to extraordinary at St. Kitts Marriott Resort & The Royal Beach Casino, providing an unparalleled location in Frigate Bay, steps from the ocean shore. Explore the natural beauty of St. Kitts and Nevis islands from the resort, boasting an 18-hole golf course and lively casino. Renew your body and mind at the resort's luxurious Emerald Mist Spa, offering facials, massages and more. Experience spacious guest rooms with ocean views and accommodations such as room service, plush bedding and ergonomic workstations. Indulge your appetite at one of the resorts celebrated restaurants ranging from steak, seafood, Italian and Caribbean to poolside bar and grille options. Resort activities include swimming in one of three outdoor pools, whirlpool, sauna, modern fitness center, lighted outdoor tennis, volleyball, snorkeling and ping pong.
Resort package includes:
Ocean views with balcony or patio
Breakfast, lunch and dinner (excludes in-room dining)
Unlimited Top Shelf Alcohol, natural fruit juices and soft drinks
All Taxes and Gratuities (includes Bellman and Maid)
Special Welcome Beverage and Towel
Concierge Service and 24-Hour Front Desk
Pool and Beach Waiter Service
Fully equipped fitness center with state-of-the-art equipment
Complimentary Wi-Fi Access in Guest Rooms
10% Discount on Spa Services
10% Discount on Golf
Complimentary Parking
Ocean View Room, 4-night stay, double occupancy $3475*
Includes all-inclusive food and beverage, ocean view, roundtrip transport from St. Kitts Robert R. Bradshaw International Airport and summit programming.
Additional Nights, double occupancy $665/night* - based on availability
Includes all-inclusive food and beverage, ocean view, 3 days before or 3 days after event.
*Contact AMBA office for single-occupancy rates.
Hotel cut-off: February 6, 2019
Excursions (*AMBA Optional Events)
Thursday, February 28, 1:30-5:00pm
Sail and Snorkel* $125/person
For the ultimate in sailing experience, indulge yourself in this refreshing catamaran cruise. Down at Port Zante Marina, a beautiful sleek catamaran awaits. Sail along the scenic southeastern coastline of St. Kitts as you listen to pulsating Caribbean rhythms and enjoy open bar service. A collage of sun, sea, music and gentle Caribbean breezes invite you to be their guests for the day, as the natural beauty and lush vegetation of the island avail themselves to you!
As the cat drops anchor at a secluded cove, you can marvel at the rich sea life while snorkeling in the clear blue waters of St. Kitts. Relax on board the catamaran with your choice of a cocktail from the open bar, soaking up the rays. Includes roundtrip, air-conditioned transfers, catamaran cruise, 3-hour open bar, stop for swimming and snorkeling (full safety gear and snorkel equipment).
Friday, March 1, 1:00 - 4:30pm
St. Kitts Sampling of Heritage and Culture* $75/person
Step back in time for an intricate sampling of the heritage and culture of St. Kitts, all neatly bundled into this lush picturesque landscape. Passing through the town of Basseterre, the waters of the Caribbean unfold as the guided, air-conditioned tour winds its way along the West Coast, to beautiful Romney Manor. Romney Manor was once the home for descendants of Thomas Jefferson, and is now the home of Caribelle Batik. The vibrant colors and designs on display amid the lush tropical gardens make this an ideal place to pause.
From there, it's on to the historic Brimstone Hill Fortress, where you'll discover the rich history that gave St. Kitts its name as the Mother Colony of the Caribbean. Situated almost 800 feet above sea level, this remarkable fortress is one of the most dramatic spots in the entire Caribbean, including Nevis, Montserrat, St. Eustatius, Saba, St. Martin and St. Barths. After Brimstone, guests have the option for a brief stop in Basseterre for shopping if they so wish, before continuing to the hotel.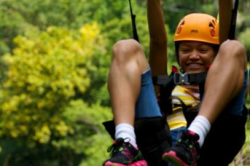 Sunlinc Services (onsite in hotel lobby) can assist in booking off-site excursions including zip lining, ATVing and guided jeep tours through the rainforest, island tours, deep sea fishing, swimming with the dolphins, speed boat excursions and more.
Register